TOMORO is CHEMISTRY exam!!
Cheer up ppl... jangan stress...
we learn alot bout the hydrocarbon like alkane, alkene and bla bla.
why not learn a little bout
PORKANE
.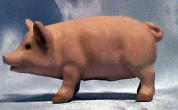 Porkane
This is a spoof molecule, since one of the carbons has 5 bonds. These pig-shaped molecules, where the 'tail' can point up or down, are apparently isolated from porcine lard (pig fat).
To committee taking chem ALL THE BEST TOMORO....
To committee that just finished trial JUST
CHILL AND RELAX = )....
-gizelle-